A     r     t
rt at the most basic level is a way to connect the dots by reproducing something that is trapped within your soul, your imagination, your brain or your heart.  Everything around us can in fact be turned into a masterpiece of art.
It can be as simple as a tire properly placed on the wall, a soda can that is photographed just right, a few randomly placed items that have a certain sense of symbolic meaning to you, which are layered on top of one another. Or, it can be something more technically advanced-which contains the proper use of time and space, good use of color, perhaps light and shadow (or not), texture and fantastic looking and feeling materials. It takes a sense of imagination, patience, passion and most importantly, the ability to not be frightened when things don't happen instantly. Fear in itself should always be left at the backdoor when creating anything.
The   FunCTion   OF   Art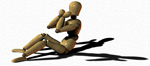 he function of art can contain a quality that sparks conversation, be that political, intellectual or spiritual, but it doesn't always have to. This function can also serve as visual eye candy that brings out the best in those once empty walls. This function can spark your creative juices that fill your cup to the rim and flows over. In short, this function, should always inspire, communicate or transfer something out of you that either wasn't there before or, needed to be brought out.
Art can take us into a world that doesn't play by the terms boundaries and rules; it can beat to his or her own drummer; it allows the slightly nutty to exist in a world that has run amok. However; an artist is often times that lonely ship that travels alone in the night, but as the fog horn echoes out, I know in my mind, that it always appears darkest before the doves brings the dawn into my life.
T  H  E    C  R  E  A  T  O  R
AN ARTIST IS WHAT I AM, CREATING ANYTHING OUT OF NOTHING. FORMING THOUGHTS PRODUCING PLENTY, LIFE NOW HAS NEW MEANING. SCULPTING MY WAYS INTO THE WAY IT SHOULD BE. EACH MOMENT HAS NEW BEGINNING; EACH ARTISTIC INCLINATION BEGINS WHEN ONE MANIPULATES THE SHADOW INTO REALITY.
IF I GET ALL THAT I NEED, KNOWING THE NEEDING IS WHAT I DREAM; POSSIBILITIES SHAPE ANYTHING OUT OF MY BELIEVING. I GIVE SO MUCH JUST AS I TAKE OUT OF THE EARTH, MY LOVE FOR LIVING IS APPARENT IN MY SEEKING.
 IN THE END WE SHOULD ALWAYS HAVE FRIENDS.
---
Art and poem by John Adrian:
Man Riding Ostrich: Mixed Media: 25" X 45"
Twins: Mixed Media: 42" X 48"
Creation, not Evolution: Mixed Media: 28" X 42"
The Dancer: Mixed Media: 4' X 5'
Newcomer: Mixed Media: 4' X 4'
M  i x  e  d          M  e  d  i  a          S  c  u  l  p  t  u  r  e
Primitive Soccer Player: Mixed Media: 3' X 3'
The Untouchable: Mixed Media: 3' X 2'
Bird Nest: Mixed Media: 2' X 1'
Coiled Snake: Mixed Media: 4' X 2'
Primitive Warrior: Mixed Media: 9" X 3"
Various dimensions are approximations:
Digital Photography
Stairway Mouth | Watching Nothing | Macro Two | Sausalito Tube Trip | Staircase Trip
---
Graphic Art
Lost At Sea | Asteroid Fields| Hand Trip | Bats In The Techno Mist | The Music Maker

Special Effects
Pipe Smoking Chess Kings | Wired And On Fire | Leonardo Goes Binary| Orange Float | Cosmic Time Bomb

Meditation To Die For
MAY PEACEFULNESS FALL UPON THY BODY AND TELL OUR EYES AND EARS WHAT'S WRONG FROM RIGHT. MAY OUR SPEECHES BE SPOKEN FROM DEEP WITHIN. MAY ALL OUR INTUITIONS MATURE AND STRENGTHEN AS WISDOM ENTERS IN. DIRECT US AS WERE LOST, SHOWING THE PATH THAT PAVES OUR WAY. I'LL FOLLOW MY FOOTSTEPS THROUGHOUT NIGHT-THROUGHOUT DAY. WHEN TIME STARTS CALLING AND DEATH APPEARING TO APPEAR, FEAR BECOMES THE FEARED FOR WE SHALL KNOW YOUR NAME, WE SHALL CALL YOUR NAME. NEW LIFE STARTS AS DAWN DRAWS NEAR, OUR TRANSFORMATION SHOULD BE EFFORTLESS LIKE A BREATH REQUIRING NO AIR. THOSE WHISPERS BECOME SHOUTS AS OLD FRIENDS APPEAR. AS LIGHT SHADOWS THE DARK ONLY GOOD MUST COME FROM PAIN. MAY OUR SOULS SOAR HIGH AS MY LORD JESUS GIVES WAY. THIS PASSAGE NOW ENDING, I'LL LEAVE ONE FINAL PRAYER, LET MAN FIND THAT GENTLE BEING THAT'S BEEN
TRAPPED INSIDE.
Sculpture Home || Sculpture Poetry || Sculpture Works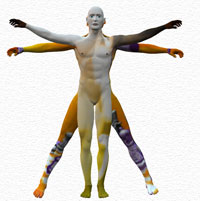 ---